Why Pittsburgh?
Pittsburgh New Homes for Sale and General Community Information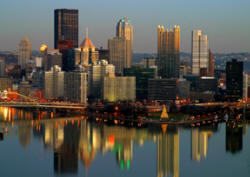 Pittsburgh real estate has something to offer every potential home buyer on the market, ranging from affordable condos in the city to sprawling single family dwellings and estate-style homes complete with acreage in the suburbs. This kind of residential versatility is part of what makes Pittsburgh unique, as residents have a wealth of housing opportunities to meet every price range.
Homes for sale in Pittsburgh PA also offer a unique mix of natural scenery coupled with access to some of the finest universities, cultural attractions, and state-of-the-art hospitals in the region. Whether you want to live right in the middle of this urban bustle or you'd rather purchase Pittsburgh PA real estate a little further out, Pittsburgh affords a great combination of cutting-edge city life and family living opportunities.
Award Winning Reasons to Consider Pittsburgh New Homes for Sale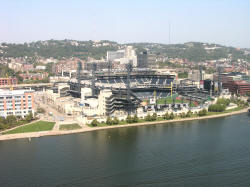 PNC Park Pittsburgh PA Potential homebuyers and investors considering Pittsburgh real estate are pleased to discover that the city has earned prestigious awards for its thriving economy and community initiatives. Specifically, Pittsburgh was named the 10th cleanest city by Forbes magazine and the 13th best city for young professionals to live by the same publication. As buyers of Pittsburgh PA new homes quickly find out for themselves, Pittsburgh was also named "America's Most Livable City" by Places Rated Almanac, "The Nation's Best Relocation Destination" for relocating families by Worldwide ERC and Primary Relocation, and "One of the 13 places Around the World Worthy of Visiting" by Frommer's Travel Guide.
Of course, it doesn't hurt that Pittsburgh is also home to award-winning hospitals, including UPMC Health System, one of the most renowned academic medical centers in the United States and Allegheny Health Network bringing cutting-edge facilities and affordable care to Pittsburgh North in Wexford PA, and the Children's Hospital of Pittsburgh, a world class Children's hospital dedicated to the care of infants, children and young adults.
Pittsburgh PA Homes Offer Access to One of the Nation's Most Thriving Job Markets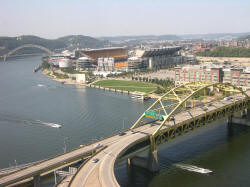 Heinz Field Pittsburgh PA Most people find the beautiful selection of Pittsburgh real estate and the vibrant Pittsburgh job market a hard combination to overlook. An added advantage for those browsing homes for sale in Pittsburgh PA is the fact real estate in Pittsburgh PA remains a strong, vital part of the community, and is expected to stay that way for years.
In addition to the stability that Pittsburgh real estate offers, the city is also home to some of the nation's largest employers, including the Bank of New York Mellon, FedEx Ground, PNC Bank, Bayer, UPMC, Allegheny Health Network, U.S. Steel, Dick's Sporting Goods, Carnegie Mellon University and the University of Pittsburgh to name a few.. Whether you've lived in the city for years or are considering a move to take advantage of all the area has to offer, there is a real estate listing that meets both your financial and your personal situation.
Pittsburgh Real Estate: City Life Meets the Great Outdoors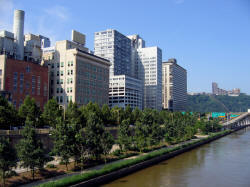 Pittsburgh PA Fort Duquesne Boulevard Most Pittsburgh PA new homes are surrounded by rolling hills, river valleys, and other breathtaking works of nature. One such natural wonder, North Park, is just a short drive into the northern suburbs. North Park offers 3,010 acres of natural woodlands and features to meet every level of activity and interest. North Park is also a great place to get involved with the family or community events offered at various times throughout the year.
Pittsburgh New Homes for Sale: Get Started Today!
Whether you're looking for a modest getaway in the woods or an upscale property near the downtown job market, Pittsburgh real estate can accommodate your professional, personal, and familial obligations all at once. We're excited for your new home, and you should be, too.